Nautical instruments
Davis Quadrant or Backstaff with vanes – John Dupee, Boston, 1764
After the astrolabe and the Jacob's staff, in 1595 John Davis invented the backstaff to determine the altitude of the sun at sea. His improved design became known as the Davis Quadrant. The observer stood with his back to the sun and didn't have to look at the bright sunlight. The instruments has two concentric graduated arcs centered on the far end. The larger scale runs from 0 to 25 degress, the other one from 0 to 65. Together 90 degrees, a quadrant of a circle. On the edge of the small arc are placed secondary scribe marks, slightly offset to correct for the sun's diameter of 16 arcminutes.
The backstaff remained in use until the late 1700s when the octant and sextant became the new preferred tools over the backstaff. The transversal nonius can be read accurate at two minutes.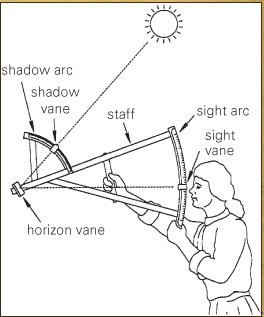 This instrument is made of apple wood with an inlaid plate with the name of the maker in the main strut and with brass rivets. It has three vanes. A sight vane with number 6, a horizon vane and a shadow vane with a Flamsteed lens, developed by the English Astronomer Royal John Flamsteed around 1670. The lens concentrates a bright spot of sunlight on the horizon vane which allows the instrument to be used when clouds made the sun less bright. This lens and its wooden frame may be an old replacement, or may have been taken from another backstaff. Also the sight vane has an old restauration. The vanes have brass pressure plates for holding them tightly in place on the degree arc. The sight vane has an inlaid brass pinhole sight. Decorative fleurs-de-lis and other decorative stamps are stamped in the frame. The transversal scale on the degree arc reads from 0° to 25° by 5 arcminutes, and reads to 1 arcminute along the fiducial edge of the sight vane. The graduation on the sixtyfive degree arc is from 0° to 65° by 1°.
John Dupee (1729-1773), maker of nautical instruments, North Side of Swing Bridge, Boston, New England, United States was the son of a French Hugenot (Webster database).
'Sextants at Greenwich' indicates: as far as known, James Keappock of Philadelphia and John Dupee of Boston made the oldest preserved American octants in 1753 and 1755.
Date: 1764
HWL: 64,5x34x1,8 cm (25.3×13.3×0.8 in)
Signed: Made by John Dupee
Origin: United States
Condition: excellent, wear consistent with age and use
Catalog: NM.4-46